About the Event:
Employee emotional well-being profoundly affects productivity, performance, retention, and engagement. A recent Conference Board survey reveals that it has eroded dramatically since the onset of the pandemic, with 76% of respondents reporting increases in employee burnout, 72% reporting increases in the number of employees seeking mental health support, and 67% reporting increased use of their Employee Assistance Plans (EAPs). New challenges await employees as some return to the office and others adopt hybrid work models.
Join Charles Bonello, Lisa Dallenbach, and Erin Grau alongside executives from Disney, PepsiCo, and other leading companies to learn what organizations need to proactively support employee emotional well-being. Learn what strategies and tools they are using to help their employees thrive at work and in life.
This event is in partnership with The Conference Board. Click the button above to register.
Speakers Include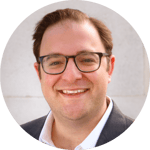 Charles Bonello
CEO & Co-Founder of Vivvi
Lisa Dallenbach
Chief People Officer of theSkimm
Erin Grau
COO & Co-Founder of Charter