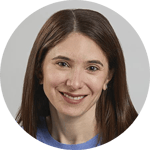 Dr. Ilyse Dobrow DiMarco
Clinical Psychologist and Author of Mom Brain
About the Event:
Do you often compare yourself to other moms/parents, and your kids to other kids? Comparison-making, whether in real life or on social media, can often result in anxiety, guilt, shame, and envy for moms/parents.
Join Vivvi and Dr. Ilyse Dobrow DiMarco, clinical psychologist and author of Mom Brain, as we discuss coping with comparisons, especially during the holidays.
This event is in partnership with Mom Crew. Click the button above to register.